CISOs and security teams face an uphill battle when it comes to detecting and mitigating ever more frequent and sophisticated cyber threats, especially in OT environments.
Cyber attackers are learning new tactics, getting more creative, and are becoming more relentless than ever to exploit industrial organizations. As seen in the Oldsmar water system attack and the Colonial Pipeline ransomware attack, adversaries are targeting IT and OT environments to inflict damage on organizations that can affect the daily lives of civilians.
Considering the evolving and ever-expanding threat landscape,security and incident response teams might be feeling lost at times when defending their OT networks. Even more so with the recent increasing convergence of IT and operational technology (OT) threats, industrial organizations are seeking new practices on how to leverage their existing IT security stack to address the new cyber threats that are targeting OT environments.
This is where SCADAfence and IBM QRadar have partnered together to create a joint integration to tackle OT security challenges. Now security teams who are using IBM QRadar can be provided with the required visibility and security for adopting advanced Industrial IoT and OT technologies. This new IT OT integration with QRadar allows users to simply integrate alerts from the SCADAfence Platform to their QRadar feed, as well as viewing it in a dedicated SCADAfence dashboard.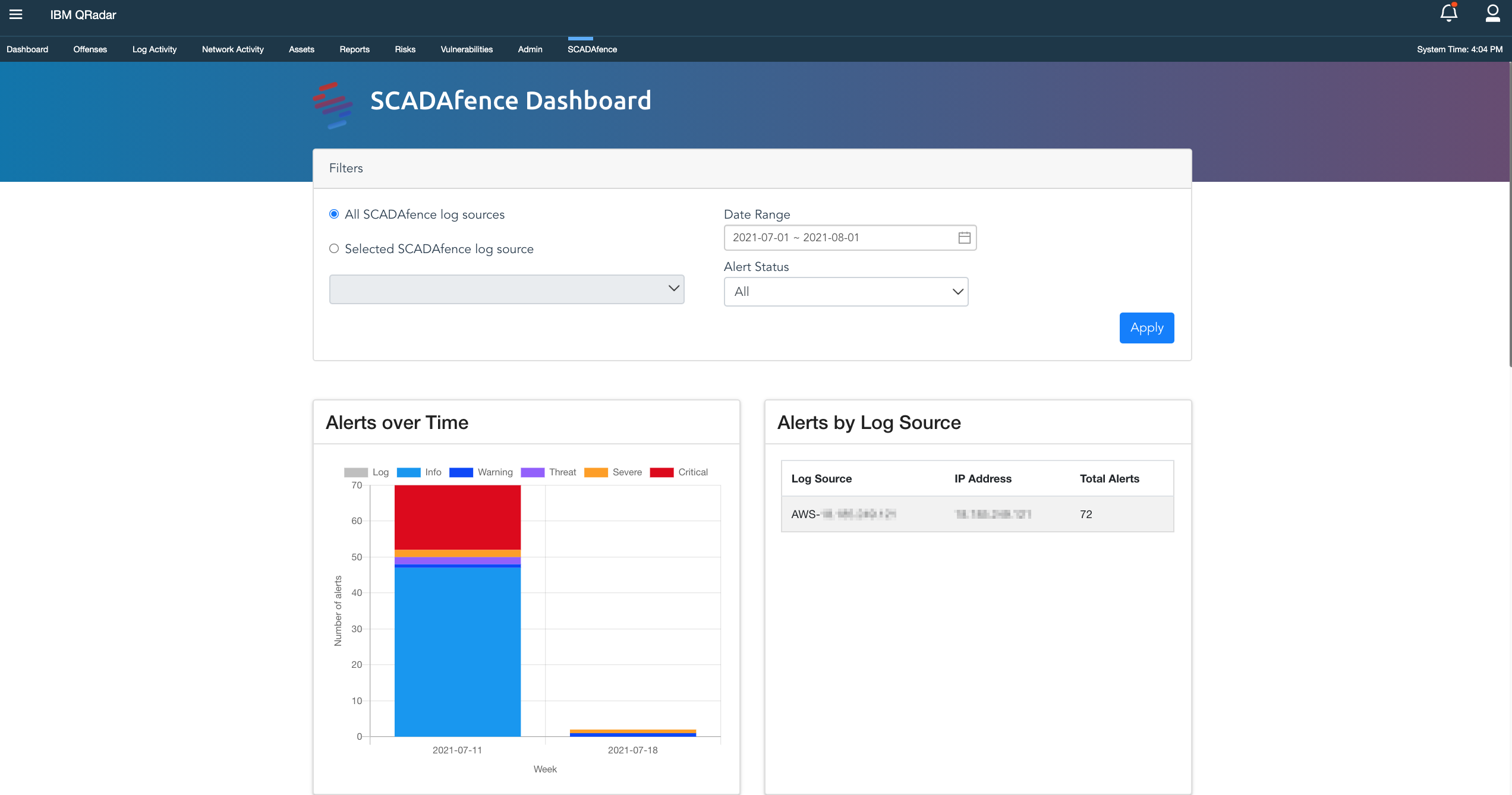 Diagram 01. The SCADAfence & IBM QRadar integration dashboard
Many industrial organizations count on IBM Security QRadar, an intelligent SIEM, to provide actionable threat intelligence to help detect and respond to security incidents that need to be mitigated. SCADAfence's integration with IBM QRadar allows our joint customers to capitalize further on their current security stack, so they can have complete visibility into their OT networks with real-time alerts, all in one user-friendly dashboard.
Leveraging SCADAfence and IBM QRadar
CISOs and their organization are always looking to enable their IT and security teams to detect and respond to security incident events more efficiently, but they also want to simplify how to address the lack of visibility into the security of OT environments at the same time. At SCADAfence, we believe we can achieve more through collaboration and integrations. Organizations can leverage SCADAfence's OT security platform and alerting with QRadar's strengths across all their industrial OT and IIoT environments to provide complete OT visibility and threat detection to respond to security incidents all in one dashboard.

Diagram 02. The SCADAfence & IBM QRadar integration alerts dashboard
Complete OT Network Visibility
SCADAfence's leading OT security platform is configured to minimize any interruption to the normal operation of the customer environment and provides OT insights and produces risk management recommendations that are appropriate to your organization's needs. This is accomplished by discovering the assets and their roles in the network which provides visibility into their behavior. With a wide range of algorithms and mechanisms, the SCADAfence Platform detects anomalies that can compromise security, safety and reliability.
Multi-Layered Approach to OT Defense
Easily integrate the benefits of the SCADAfence Platform to provide endpoint controls with behavioral indicators of compromise across endpoints and operational networks. This will allow IBM QRadar users to have the visibility to respond across IIoT and OT environments, all within a single dashboard. This integration empowers customers with SCADAfence's OT security technology while providing the needed visibility into OT equipment.
Automated Asset Inventory
The SCADAfence Platform allows IBM QRadar customers to automatically discover and continuously manage their entire asset inventory up to date with detailed information on all the devices connected to their OT networks. Regardless of the vendors and controllers deployed in the infrastructure, the platform automatically generates asset inventory without needing any prior knowledge.
Efficient Detection of Incidents
With IBM QRadar and SCADAfence, users can correlate network traffic behavior with host and user behaviors across multiple network areas. Easily surface critical events and detect incidents across machines and networks that would previously go completely undetected. Quickly react and precisely prevent further attack propagation with an automatic correlation of OT manipulation commands with compromised host indications.
Proactive Operational Insights
SCADAfence Platform continuously alerts IBM QRadar users of any abnormal behavior or configuration changes that may have an impact on their operations' stability before it actually affects their operations. The SCADAfence platform utilizes the most advanced OT security technology to gain the most up-to-date industry insights, which helps provide users with better security alerts and recommendations on how to remediate today's OT vulnerabilities that may impact your environment.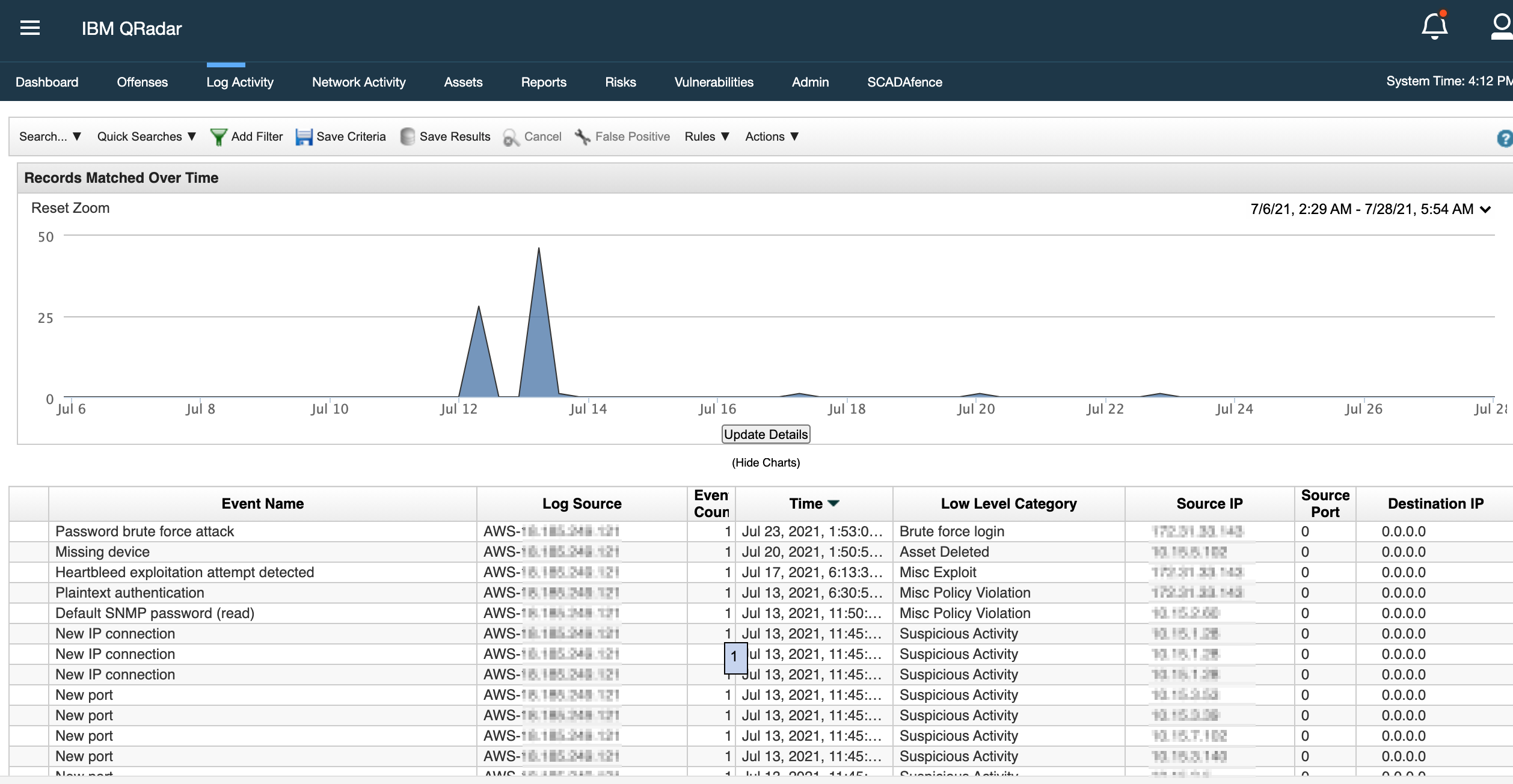 Diagram 03. The SCADAfence & IBM QRadar integration log activity dashboard
Discover the instant value of OT security in your QRadar environment. Mutual customers with an active subscription to SCADAfence can go to the IBM Security App Exchange and download SCADAfence Platform integration for IBM QRadar.