Over time, we have learned that we develop products not for our own innovation, but for you the customers, to help improve your OT security. In 2021, we were excited to launch three newly designed products that include many new features that will improve your OT security experience.
We launched the SCADAfence Platform 6.6, Governance Portal 2.0 and the Multi-Site Portal 2.6. We launched these new product versions to ensure that we offer the industry's leading industrial cybersecurity solutions that provide the best detection & response capabilities in large-scale OT networks, asset discovery and governance. Some of the new features include the MITRE ATT&CK framework for ICS support, we've included many new security alerts, improved our state-of-the-art technology, enhanced reporting, new zero trust OT capabilities and more.
With the combination of our additional new funding, hiring top experts in R&D & the executive team, 2021 has truly been an amazing year for SCADAfence. We have strengthened our leading OT security offering to provide the most advanced and cutting-edge technology in the OT security industry.
After months of excessive testing by internal & external research teams, The SCADAfence Platform version 6.6 consistently demonstrated best-in-class performance and provided 100% detection with close to zero false positives.
Current customers can upgrade their SCADAfence Platform to the latest version and see the new features in action. But let's take a closer look at the main new features, with some screenshots.
Easily manage your OT security environment
After talking to our rapidly expanding customer base and asking how we can make their user experience as efficient as possible, it was time for a further optimized UI design. We've updated All our product's user interface with a smoother and sleeker feel, that was designed with ease of use in mind, based on customer feedback.
Our new UI will allow our customers and their OT security teams to easily manage their OT environments while navigating through the platform.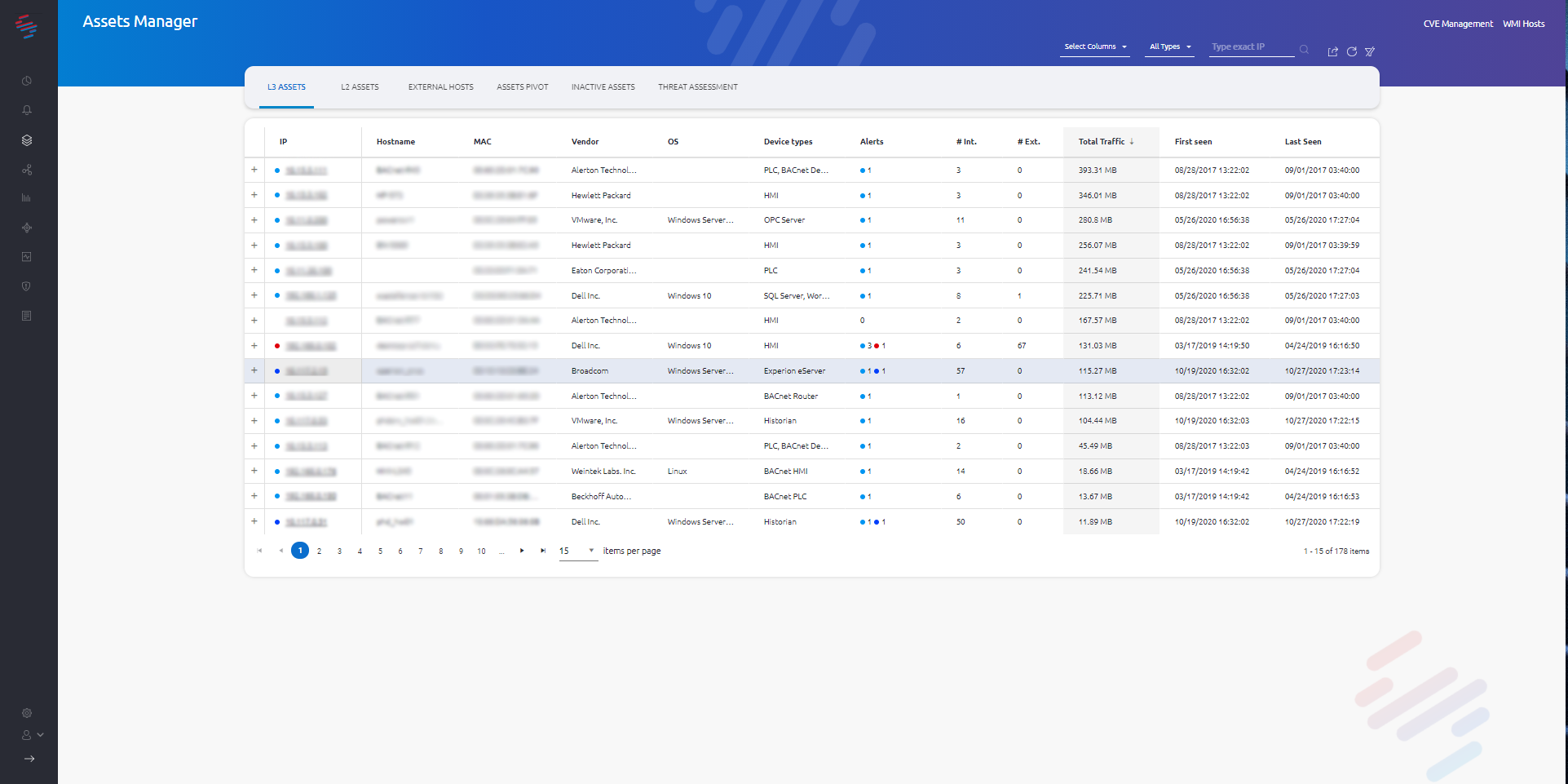 Diagram 01. The SCADAfence Platform's Assets Manager dashboard
Detect cybersecurity risks with SCADAfence's new Einstein baseline
We've always prided ourselves in having the most advanced baseline technology in the industry, with over 40% more accuracy than other solutions in the OT security market. According to Gartner's Vam Voster, " SCADAfence's self-tuning baseline minimizes false positives; this means that no user configuration is required, nor is any stop-and-restart needed to relearn. This system allows for a scalable solution for a huge organization and seamless integration with OT networks."
With the SCADAfence Platform, our customer's baseline period takes just 2 days, unlike our competitors who tend to take up to six weeks. On top of the baseline period, we wanted to make our industry-leading baseline even more advanced and accurate, so we are excited to introduce our new 'Einstein' baseline.
Unlike other OT security solutions, SCADAfence's new 'Einstein' baseline continuously updates and learns more about the latest network traffic and will "forget" old and irrelevant behavior that is not relevant to the customer's environments and systems. This results in detecting new malicious behavior which increases the visibility into networks, even if in the first phase they were infected or compromised.
In addition, changes in network behavior might occur due to changes in process or network equipment. This also requires an adaptation of the baseline.
This is a major improvement in the accuracy of the detection, and coping with dynamic networks.
New System Mode - Offline PCAP Analysis
SCADAfence's customers and partners can now run PCAP analysis for offline risk assessment processes. The offline analysis will allow customers and partners to test and analyze their traffic files taken from their network and analyzed offline. This analysis enables users to get a better understanding of their network traffic while not affecting their current network. This feature has been uniquely designed to provide completely offline analysis without interference from live network traffic.
The new version of our OT/ IT Governance Portal
The SCADAfence Platform release 6.6 is equipped with our latest version of our IT/OT Governance and compliance portal. After receiving continuous feedback from our customers and dozens of deployments of our Governance portal we updated our industry-leading governance portal. In addition to a complete UI facelift, the new Governance Portal version 2.0, has more speed, more advanced results and more compliance regulations. In fact, we've added nine (9) new compliance frameworks to fit our customers' growing compliance needs.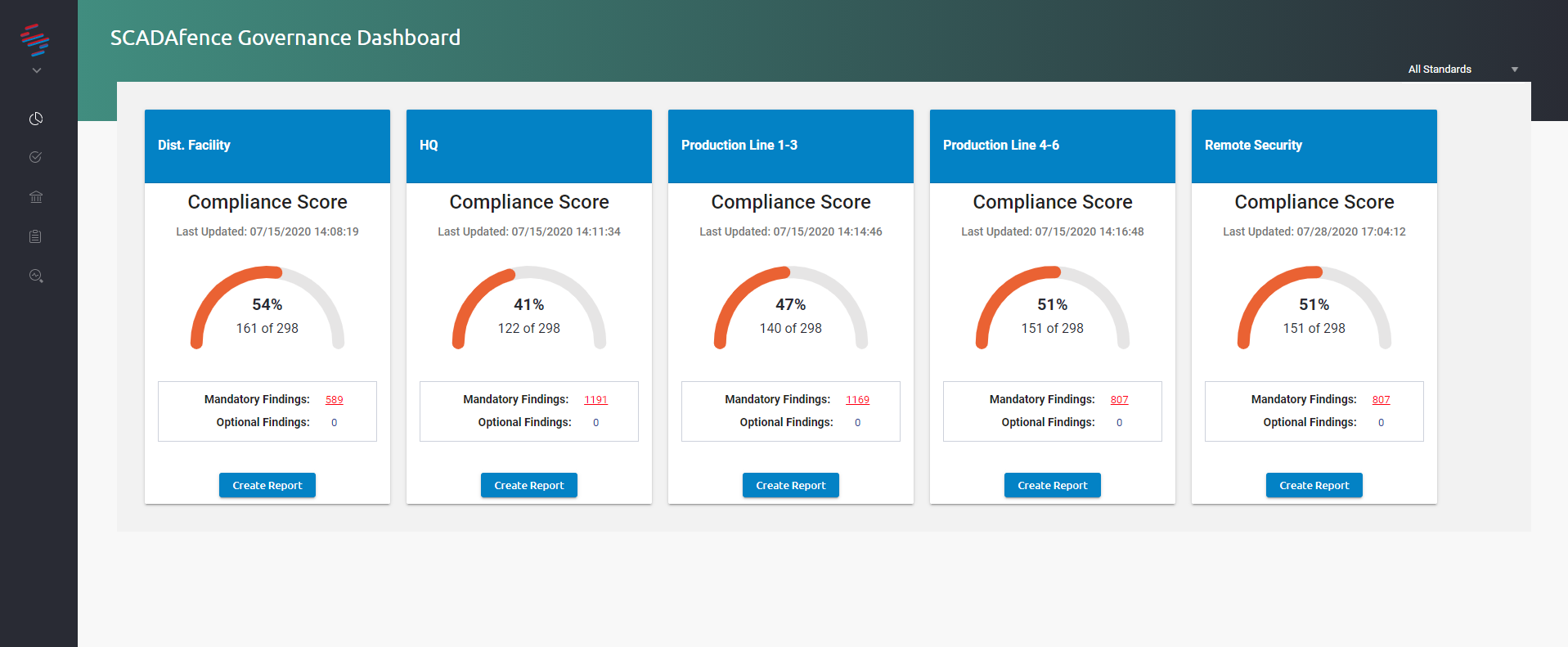 Diagram 02. The
SCADAfence Governance Dashboard
Scaling with SCADAfence's Multi-Site Version 2.6
SCADAfences's customer deployments are growing to where they are reaching hundreds of sites. This poses a significant burden for most administrators to configure each site's settings individually. With SCADAfence Multi-Sites' Portal Central Configuration, this is no longer an issue.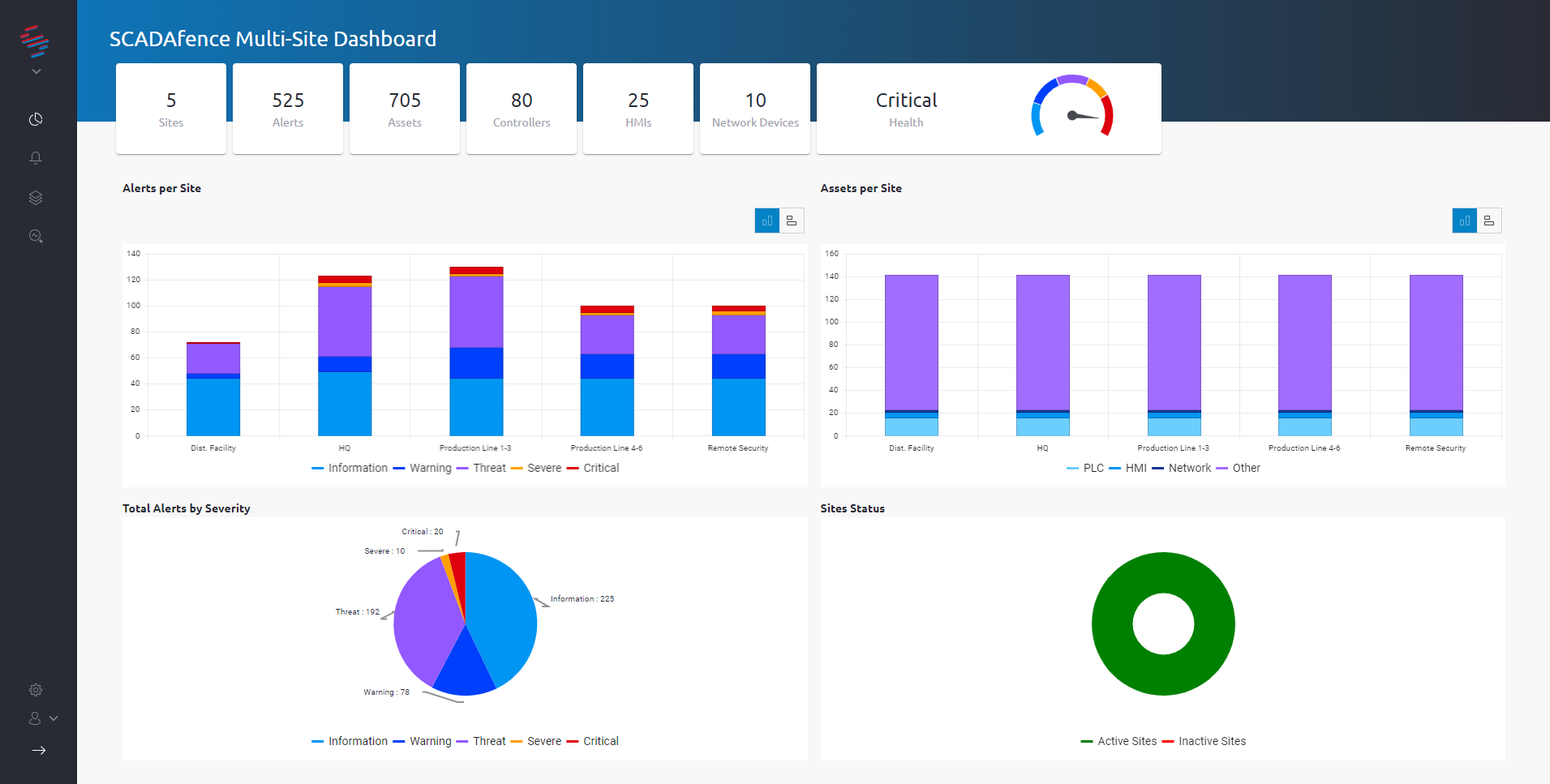 Diagram 03. The SCADAfence Multi-Site Dashboard
The Multi-Site Portal now allows customers to distribute their configurations to all their sites from the Multi-Site Portal to the distributed SCADAfence Platforms. The security configuration is managed via profiles and covers many security aspects including alerts policy, IP groups, central licensing, 3rd Party tools integrations and more.
By deploying the central configuration, administrators will now save more time while increasing productivity and efficiency while using the SCADAfence Platform in their multiple sites.
Central Software Updates
As part of the central configuration capabilities, SCADAfence customers now have the opportunity to update the SCADAfence Platform software from the Multi-Site Portal. This new feature allows customers to upgrade their SCADAfence Platforms with the latest version in all their sites centrally from the Multi-Site Portal, without the need to access each site's Platform and upgrade it manually.
This allows organizations and their administrators the flexibility to increase the management of their sites and the OT networks, which results in productivity and saving time.
Get assitance for your OT Security needs
This latest product release had a strong emphasis on user experience, security and improving the management of different industrial protocols (ENIP/CIP, S7, BACnet vulnerabilities, etc.). In conclusion, the SCADAfence Platform version 6.6 enables organizations in manufacturing, critical infrastructures and more industrial sectors to operate securely, reliably and efficiently with the right amount of OT security within their industrial environments.
We're confident that these updates and those coming in the future for our top OT security solution will bring a better experience for users and we are here to help with all your OT security needs.
For more details on these enhancements, and to learn about the additional new features in the SCADAfence Platform version 6.6, Governance Portal 2.0 and the Multi-Site Portal 2.6, and check out some short free demos. Our team will be happy to assist you.