A SCADAfence New Feature report
"Could we be next?"
One of the biggest challenges for an industrial OT/ICS security professional is figuring out if their organization is vulnerable to the latest announced strain of ransomware. Reports of new OT security breaches and ransomware attacks being released every day it can be hard to know which ones are a concern to your organization, and which ones you can safely ignore. While it's important to remain prepared, it's equally important not to create a false sense of urgency.
What you need to remember is that although attacks are commonplace, they are often very specific. Not every threat pertains to every OT network setup.
Malicious actors carry out attacks by targeting known vulnerabilities on specific devices. If your facility doesn't use that device, you are less vulnerable to that attack. But with so many attacks happening daily, keeping track of which ones are a threat to your organization is a challenge.
Introducing "Tailored Threat Intelligence"
The SCADAfence platform now allows you to receive a feed of the latest industry news and intelligence customized specifically to your OT network containing only information relevant to your organization.
Every time a new attack report is released, it is analyzed and curated by the SCADAfence Research Team. The information, including signatures and attack insights is added to the industry event database along with detailed explanations and recommendations on minimizing each risk. Then a custom news feed is delivered to each client, with only information that is relevant to you and your organization.
The context delivered by SCADAfence's Tailored Threat Intelligence provides valuable knowledge about each event, such as the types of assets being attacked, from which vendors, and the protocols being used. For each alert, SCADAfence Platform can determine the level of relevancy per customer based on the customer's site details, asset inventory and network traffic.
As a result, the SCADAfence Tailored Threat Intelligence provides users with a well-organized list of relevant industry news, each prioritized by a relevancy score, and actionable recommendations on what can be done to reduce the risk from the event.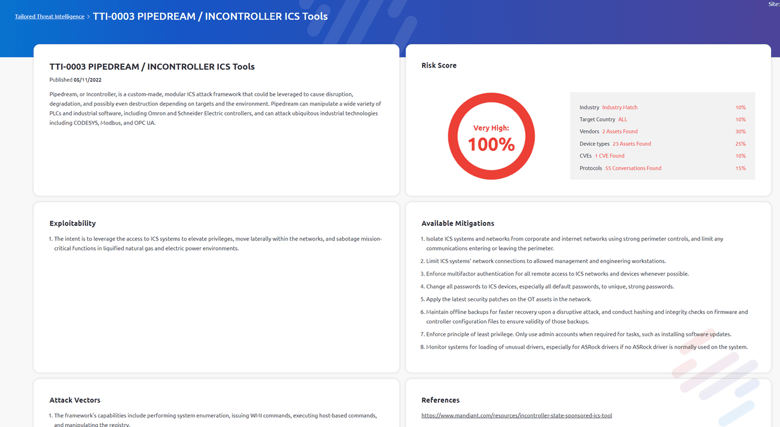 Your fully customized and prioritized SCADAfence Threat Intelligence Feed.
SCADAfence's automated threat updates and prioritization are a breakthrough for increasing your efficiency of the response to industrial cyber security events. It improves your ability to know which industry events are relevant, reduce risk and respond effectively without wasting valuable resources.
Summary of Benefits of Tailored Threat Intelligence
Industry-specific security events are analyzed by SCADAfence's Research Team, and tailored to your needs. Save time by not having to wade through irrelevant information.
You'll understand the relevancy to your organization of each reported cyber attack
Helps your organization avoid a false sense of urgency from ransomware attacks not relevant to your organization's deployed devices.
Provides a custom relevancy score for each event
Dramatically reduces the need for manual review of each new reported threat.
Feed is constantly updated through the SCADAfence cloud